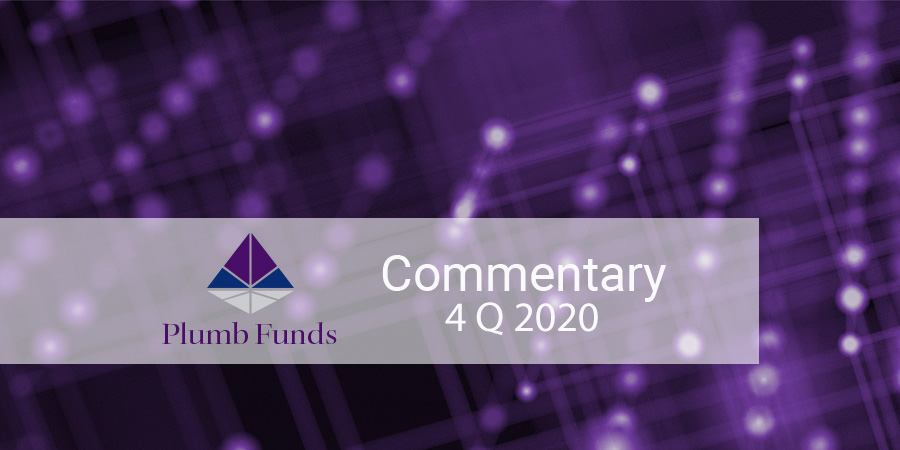 Thomas G. Plumb, CFA
Lead Fund Portfolio Manager
President, CEO, Chairman
Dear Plumb Shareholders,
Stating the obvious, 2020 was an unusual year on many levels including the stock and bond markets.  One would intuitively think a deadly global pandemic would naturally result in poor S&P 500 market performance.  However, 2020 finished the year very strong with the S&P 500 advancing 12.1% in the fourth quarter and over 18% for the year.  The stock rebound was not isolated to the United States as the MSCI AC World Index, excluding the United States, also advanced 17.0% for the quarter and 10.65% for the year.  This outstanding positive market experience leads to the question, "How in the world is the stock market up this year?"
The answer includes a multitude of complex elements, but we feel that two major factors drove the surprisingly positive experience of the markets this year.
Unprecedented government stimulus which added incredible liquidity to the financial markets
Structural changes to some basic economic relationships
On the first point, the two stimulus bills passed in 2020 added almost $3 trillion in fiscal relief to the economy.  Concurrently, the Federal Reserve Bank dropped overnight bank lending rates to zero while buying $3 trillion of government and corporate debt.
The second point can best be illustrated by dissecting the S&P 500.  The averages show that revenue for the largest 500 companies represented by this index was flat year over year. However, there was tremendous divergence within corporate America with revenue growth and margin expansion resulting in double digit earnings growth for Technology and Health Care companies. In contrast, Financial, Industrial and Energy companies experienced double digit earnings declines.
Apple, Amazon, and Microsoft disproportionally contributed over half of the return of the S&P 500 in 2020. These three companies reflect the growing importance of digital wallets, the data revolution, and how the cloud is enabling innovation in artificial intelligence, remote working, business system efficiency and health care delivery and product development.
The Plumb Funds focus on disruptive growth, which encompasses its drivers, enablers and beneficiaries benefitted both relative and absolute performance in 2020. We believe that these factors will still contribute to both economic and stock market performance in 2021.
We expect, like most economists, that we will see a worldwide economic recovery in 2021.  Historically, that is good for equity markets. However, we feel that government stimulus may have masked some structural weakness in certain segments of the economy.  These sectors will eventually have to deal with misallocation of capital (especially real estate), unreasonable debt levels for the underlying businesses, supply chain inefficiencies, and permanent alterations in consumer behavior. As such, we will continue to focus on companies benefitting from new economic relationships, large addressable markets, recurring revenue models, minimal need for debt financing, and leadership in their business segments.
Thank you for your investment in the Plumb Funds. All of us wish you a safe, healthy new year.
Plumb Balanced Fund Top 10 Holdings
Plumb Equity Fund Top 10 Holdings       
SPXT-S&P 500 Total Return Index. S&P 500 is an unmanaged index which is widely regarded as the standard for measuring large-cap U.S. stock market performance. Calculated intraday by S&P based on the price changes and reinvested dividends of SPX with a starting date of Jan 4, 1988.
NDUEACWZ- The MSCI ACWI ex USA Index captures large and mid-cap representation across 22 of 23 Developed Markets (DM) countries (excluding the US) and 24 Emerging Markets (EM) countries*. With 2,148 constituents, the index covers approximately 85% of the global equity opportunity set outside the US.
It is not possible to invest directly in an index.
The Fund's investment objectives, risks, charges, and expenses must be considered carefully before investing. The prospectus contains this and other important information about the investment company, and it may be obtained on www.plumbfunds.com or by calling 1- 866-987-7888. Read it carefully before investing.
Past performance does not guarantee future results.
Opinions expressed are those of the author as of September 30, 2020 and are subject to change, are not intended to be a forecast of future events, a guarantee of future results, nor investment advice.
Earnings growth is the annual rate of growth of earnings from investments.
Mutual fund investing involves risk. Principal loss is possible.
The fund may invest in small and mid-sized companies which involve additional risks such as limited liquidity and greater volatility. The funds invest in foreign securities which involve greater volatility and political, economic and currency risks and differences in accounting methods. Because the funds may invest in ETFs, they are subject to additional risks that do not apply to conventional mutual funds, including the risks that the market price of an ETF's shares may trade at a discount to its net asset value ("NAV"), an active secondary trading market may not develop or be maintained, or trading may be halted by the exchange in which they trade, which may impact a fund's ability to sell its shares. The fund may also use options and future contracts, which have the risks of unlimited losses of the underlying holdings due to unanticipated market movements and failure to correctly predict the direction of securities prices, interest rates and currency exchange rates. The investment in options is not suitable for all investors. The Plumb Balanced Fund will invest in debt securities, which typically decrease in value when interest rates rise. This risk is usually greater for longer-term debt securities.
Fund holdings are subject to change at any time and should not be considered a recommendation to buy or sell any security.
Diversification does not assure a profit nor protect against loss in a declining market.
Plumb Funds are distributed by Quasar Distributors, LLC, distributor.
CATEGORIES
SIGN UP FOR THE PLUMB LINE
STAY UP TO DATE ON OUR CURRENT INSIGHTS AND PORTFOLIOS.